Roller results Import procedure
to upload results
Download excel preset
Here anybody can upload results from any competition.
Note: after you uploaded results they will appear as unchecked We will review them and set them to checked when they are correct.
We don't have results like on paper. Our results are linked with their athletes profile. So simply putting the name isn't sufficient. Names are often spelled differently or change(marriage). So when uploading results you must link every athlete to his/her corrisponding profile or create a new profile.
This site will guide you through this process. Complete each step one by one.
You will need a unique identification number per athlete to upload results. In case you only upload one competition the start number will be sufficient. But we recomment something thats more long term like the license number or similar.
Linking athletes:
You will be asked to link your athletes to our athletes. On the left hand side you will see the information that you provided in your file. The right hand side shows all skaters that we think match your input. If the correct skater doesnt appear search it using the search function at the top and link it manually.
Manually finding an id:
To find the id of a skater on roller results go to his profile and check the url at the top of your browsers window.
https://www.roller-results.com/athlete/?id=1973&search1=bart%20sw => 1973 is the id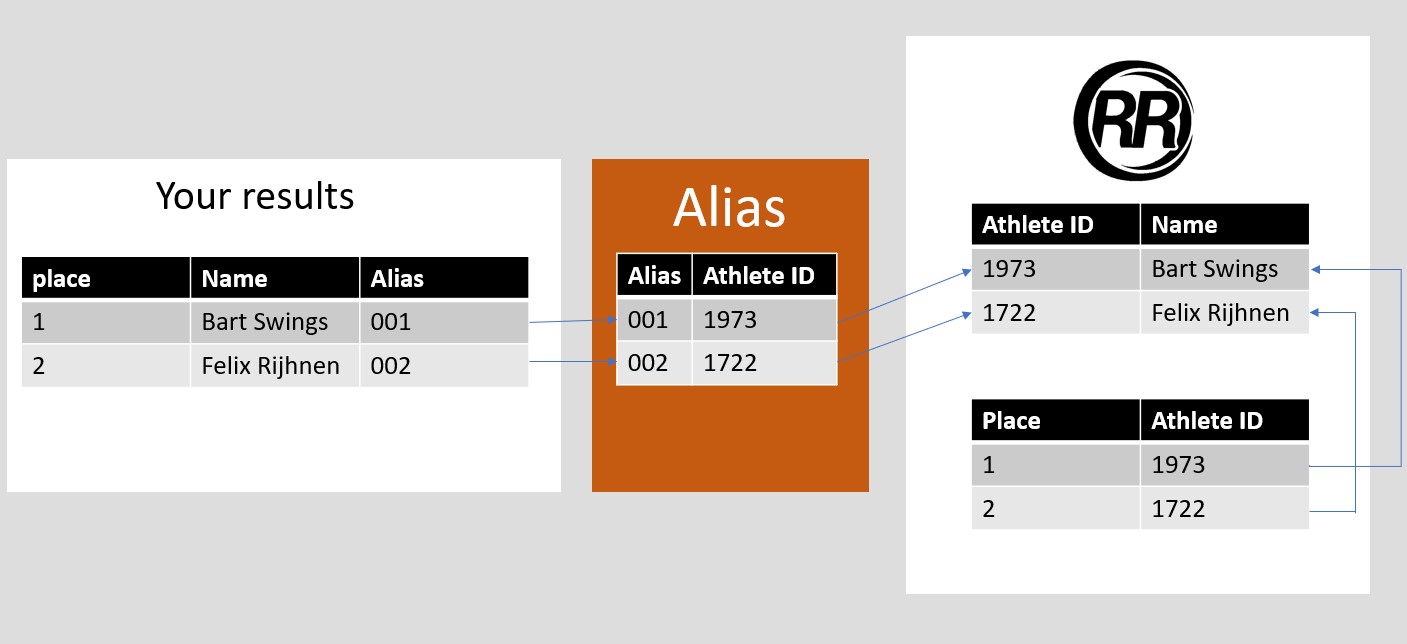 Furthermore there is the option to create a new Skater. Please ony create new skaters when you are sure that they do not appear on roller results yet! Nessesary informations are: firstname, lastname and country.
Important:
When you at the upload step please take your time to check every race with its results to ensure that we your results get approved.

please report bugs to Roller.results@gmail.com
Step 1:
Create event
Select competition
Create new
Step 2:
Alias
Select Alias Group:
Please log in to upload results
If this is your first time uploading results simply create a new Alias and dont worry about it yet.
If you uploaded results before and you are uploading again use the old alias if the skaters in your result are stil racing with the same athleteId(numbers)
Step 3:
Select results
Updated excel file Download excel file here and fill in results
Upload file here:



Seperate races By:
Step 4:
Link athletes
Upload results to proceed
Step 5:
Upload
Save athletes to proceed
Your content
Log in to see your content